Backyard Chicken
---
[ Follow Ups ] [ Post Followup ] [ FAQ ]
---
Posted by WooDoggies on August 25, 2011 at 12:01:27: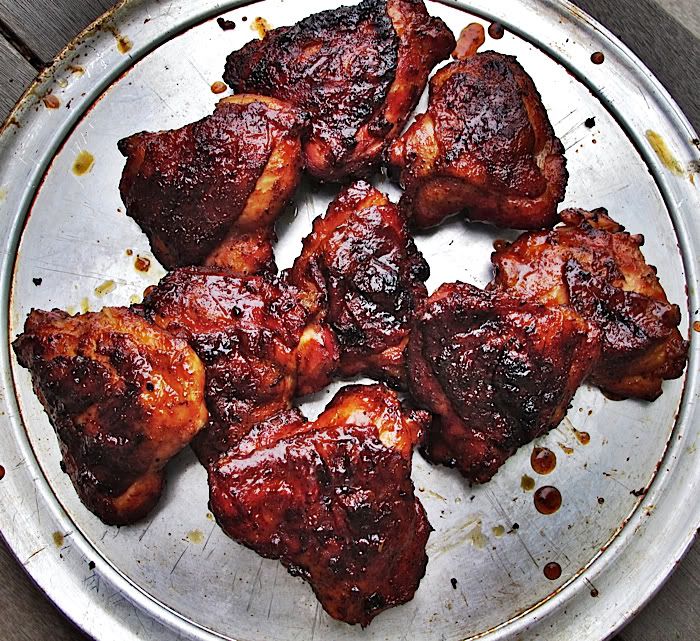 On a cool sunny day back in the early 80's, a college buddy from Houston taught me how to cook chicken.... something he picked up from working in the oil fields. Unlike the hot chicken cooks I'd done prior ... continually having to flip to keep the skin from burning and spray bottle to tame the flames... he cooked his chicken at what seemed like too low of a temp, rarely opening the lid and flipping just a few times before it was done.
Impatient at the amount of time he was taking to have lunch ready, I ask just how long he planned to cook that chicken. With cigarette dangling out of the side of his mouth he replied "Until it's done."
That chicken was the best I'd ever had....smokey, tangy, moist, tender and nearly falling off the bone.... and that's how I've cooked thighs, legs and wings ever since.
These thighs were cooked around 250 degrees for a little less than 2 hours, 14 or so inches above the coals with a little apple wood thrown in. Started skin side up, flipped 3 or 4 times and sauced not too long before pulling off.... not as good as I remember the chicken from that cool and sunny day, but pretty close.

john



---
---
Source:
pool-173-75-190-107.bltmmd.east.verizon.net
173.75.190.107
Mozilla/5.0 (Macintosh; Intel Mac OS X 10_5_8) AppleWebKit/534.30 (KHTML, like Gecko) Chrome/12.0.742.122 Safari/534.30
---
[ BBQ Search ]