Re: Turkey Breast
---
[ Follow Ups ] [ Post Followup ] [ FAQ ]
---
Posted by QSis on December 30, 2011 at 20:34:55:

In Reply to: Re: Turkey Breast posted by otps on December 30, 2011 at 19:29:24: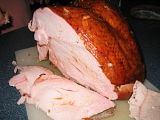 I don't like brining poultry at ALL, so I only inject. Since you have no dark meat to worry about, all you need to do is take the breast to 160 degrees and you'll be a superstar.
Don't overthink it. Just inject in a bunch of spots, and when you see it start leaking out all over the place, you're done.
You don't need to add butter, since your salad dressing has oil.
I like to sprinkle BBQ rub or Tony Cachere's on the skin, and in the cavity. If your wife is concerned with the saltiness of rub, then just use garlic powder and/or lemon pepper or Mrs. Dash or whatever you like.
I don't season under the skin.
Smoked turkey is wonderful, so enjoy and Happy New Year!
Lee


---
---
Source:
pool-108-20-166-228.bstnma.fios.verizon.net
108.20.166.228
Mozilla/4.0 (compatible; MSIE 8.0; Windows NT 5.1; Trident/4.0; SU 3.14; FunWebProducts; GTB7.2; .NET CLR 1.1.4322; .NET CLR 2.0.50727; .NET CLR 3.0.4506.2152; .NET CLR 3.5.30729; WinNT-PAI 28.08.2009; AskTbARCD/5.12.2.16749)
---
[ BBQ Search ]