Re: charcoal maze
---
[ Follow Ups ] [ Post Followup ] [ FAQ ]
---
Posted by Old Dave on July 02, 2012 at 05:41:43:

In Reply to: charcoal maze posted by Hot Wachulas on June 30, 2012 at 09:23:01: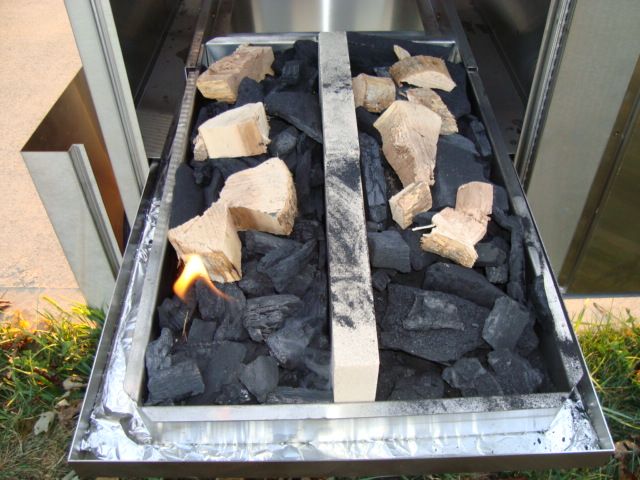 I use firebricks to setup a maze burn in couple of my larger charcoal grills and do use the "U" shape in my firebox. Kinda hard to see in the picture but there is some room at the far end of the box for the fire to burn around the corner of the firebox and back to the front. I like to start the fire close to the air intake vent if possible.
Some things to consider with this type of burn..
Metal is a good heat conductor so use firebricks to prevent the whole thing from going off at once.
Lump charcoal pops and cracks and pieces fly off as it burns and may start it all off as well.
Be sure to have your smoke wood chunks as far away from the unlit side to prevent it from flaming up and starting the other side.
Be sure you have an indirect cook as you don't want any fat falling down on the fire and flaming up and starting the other side.
You need at least 5-6" under the fire to the ash pan clearance to prevent a chunk of charcoal to fall thru the charcoal box and roll over to the other side and start that side on fire.
Dave

---
---
Source:
209-132-170-98.ccrtc.com
209.132.170.98
Mozilla/5.0 (Macintosh; Intel Mac OS X 10_6_8) AppleWebKit/534.57.2 (KHTML, like Gecko) Version/5.1.7 Safari/534.57.2
---
[ BBQ Search ]