Another view and a question
---
[ Follow Ups ] [ Post Followup ] [ FAQ ]
---
Posted by ZZ on April 29, 2014 at 10:29:59:

In Reply to: On going smoker build. posted by ZZ on April 29, 2014 at 10:22:28: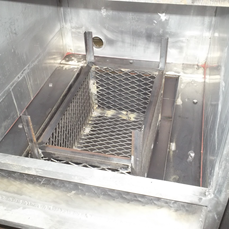 As you can see in the picture, there is a hole in the rear wall that the electric cable came through to operate the heat/proof unit that was in the cabinet in it's previous life. Do you think it will provide air to the charcoal basket which is down in the fire box or should I be looking at plugging that hole and making an air vent down below in the fire box itself? Thanks for any suggestions.
Ed.


---
---
Source:
h48.109.21.98.dynamic.ip.windstream.net
98.21.109.48
Mozilla/5.0 (Windows NT 6.1; WOW64; Trident/7.0; rv:11.0) like Gecko
---
[ BBQ Search ]