Re: BBQ beans revisited
---
[ Follow Ups ] [ Post Followup ] [ FAQ ]
---
Posted by Old Dave on June 15, 2015 at 23:50:54:

In Reply to: BBQ beans revisited posted by Ray Basso on June 15, 2015 at 19:53:46: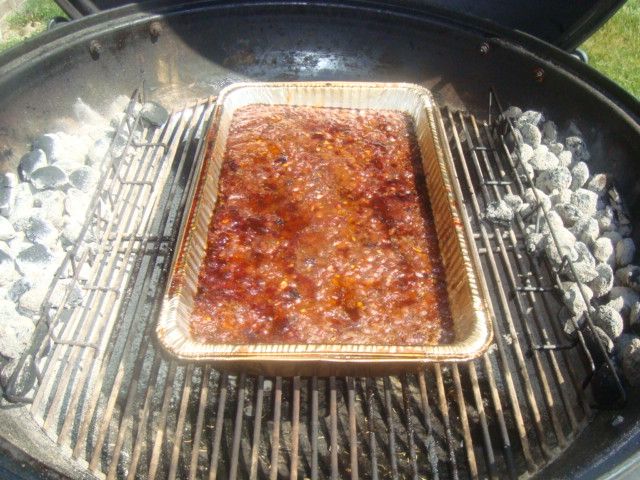 Ray,
I smoke or bake a BBQ Bean recipe from Rick Salmon that was posted on the site many years ago and maybe as early as 1993? It is sometimes posted as "Rick Salmon's Blue Ribbon Barbecue Pit Beans" and is a wonderful recipe. I am always asked to make them at about any cooking event.
I just made a pan last weekend.
Two 28 oz. & one 15 1/2 oz cans of Bushs original baked beans
1 12-to-16 ounce bottle barbeque sauce (I use KC Masterpiece)
1/2 onion, finely diced
1/2 green pepper, finely diced
3 celery stalks, finely diced
8 tablespoons of prepared yellow mustard
About 1 pound brown sugar (or what ever it takes to adequately cover)
2 tablespoons powered hickory seasoning (or bbq rub)
2 tablespoon celery seed
1 to 2 pounds of smoked pork or brisket
1 aluminum half steam pan (roughly a 9x13)
Put all the above ingredients in the pan. Mix well. Cover with brown sugar, about 1/2 to 1 inch thick and do not stir in the brown sugar. Put in smoker for about two to three hours at 200 to 225 degrees, I use hickory wood. Let the brown sugar melt down into the beans. Stirring it in is not necessary.
The only thing I change on this recipe is the cooking time and I like to leave them in the smoker for up to 5-6 hours.
Dave


---
---
Source:
209-132-170-98.ccrtc.com
209.132.170.98
Mozilla/5.0 (Macintosh; Intel Mac OS X 10_6_8) AppleWebKit/534.59.10 (KHTML, like Gecko) Version/5.1.9 Safari/534.59.10
---
[ BBQ Search ]